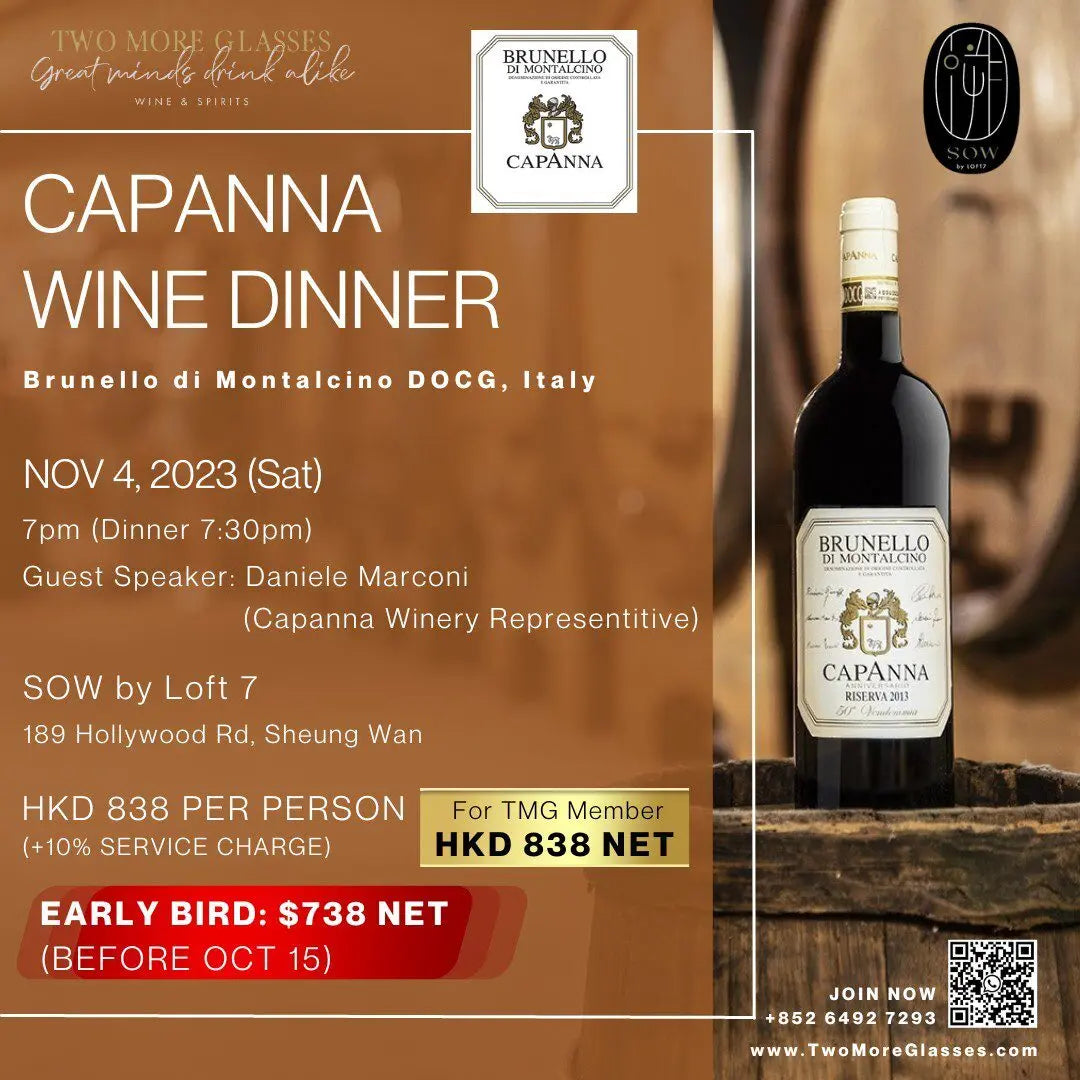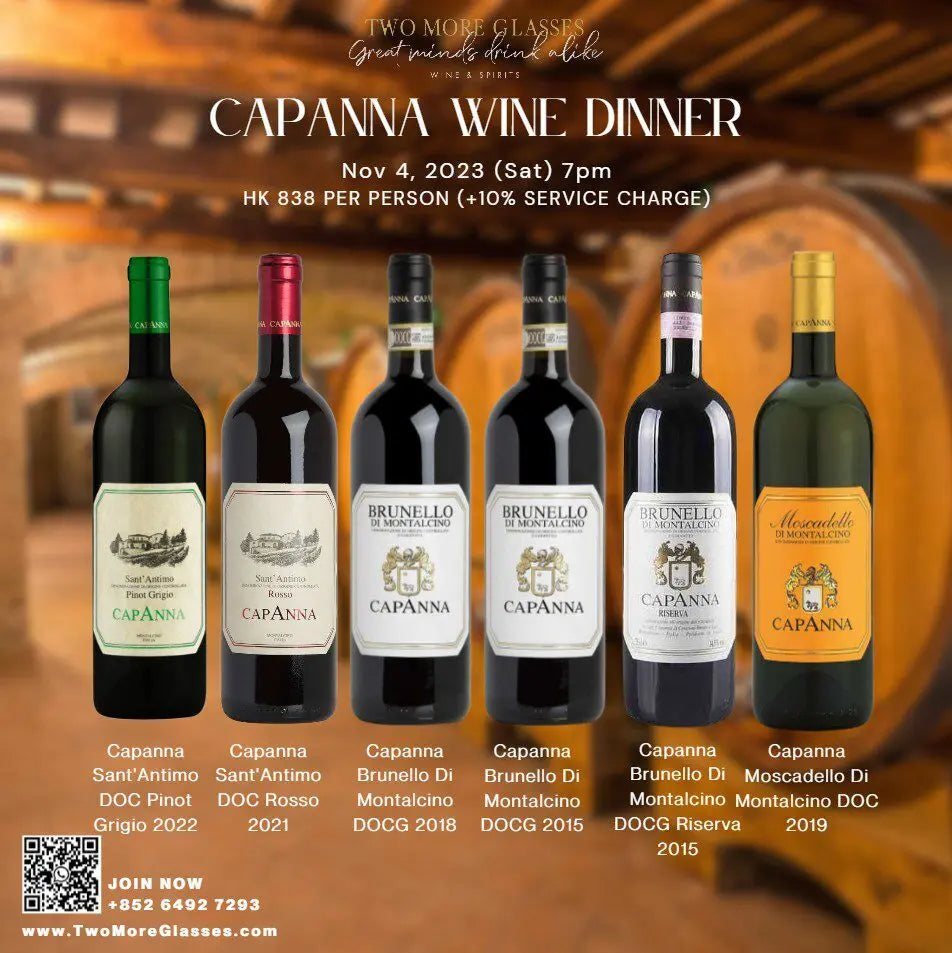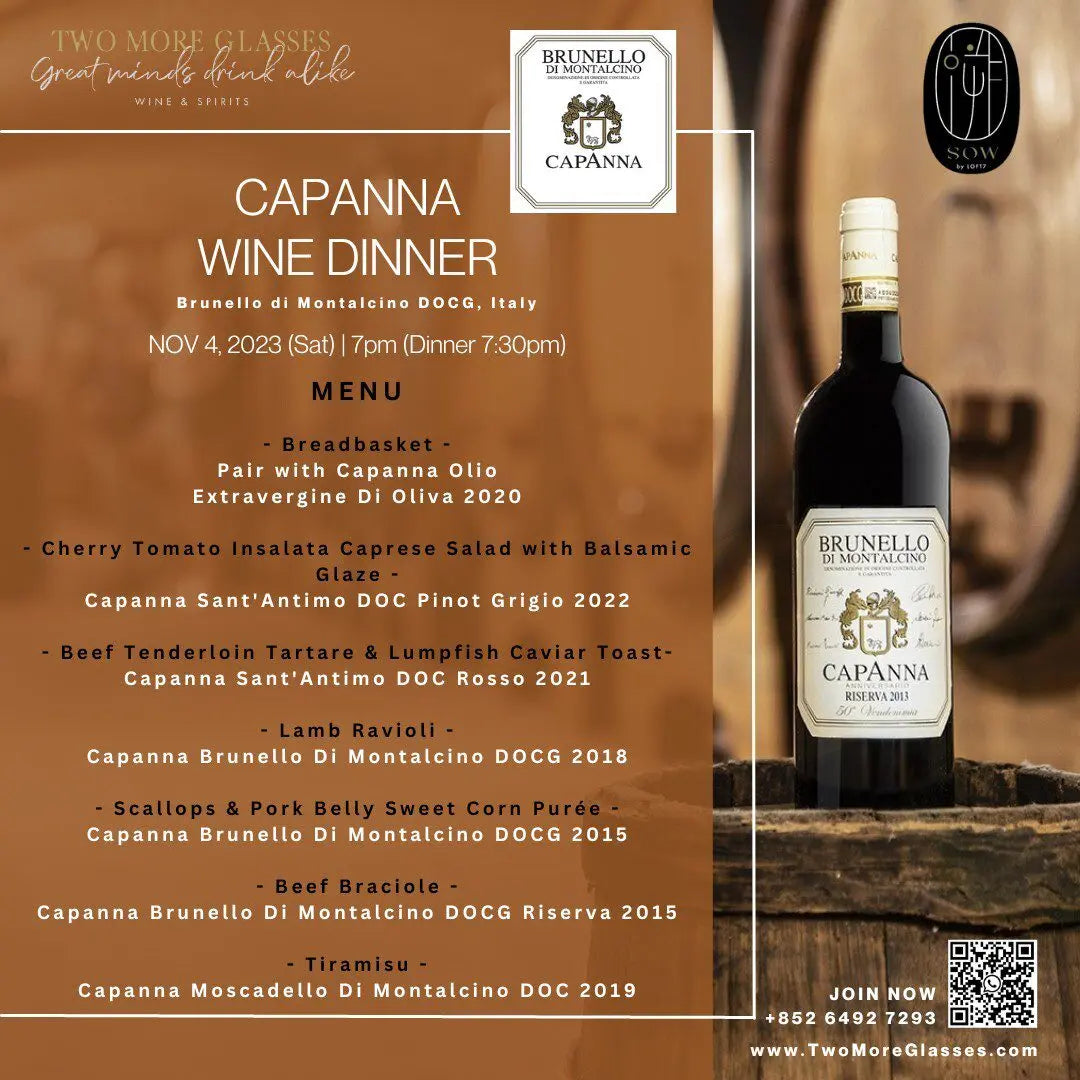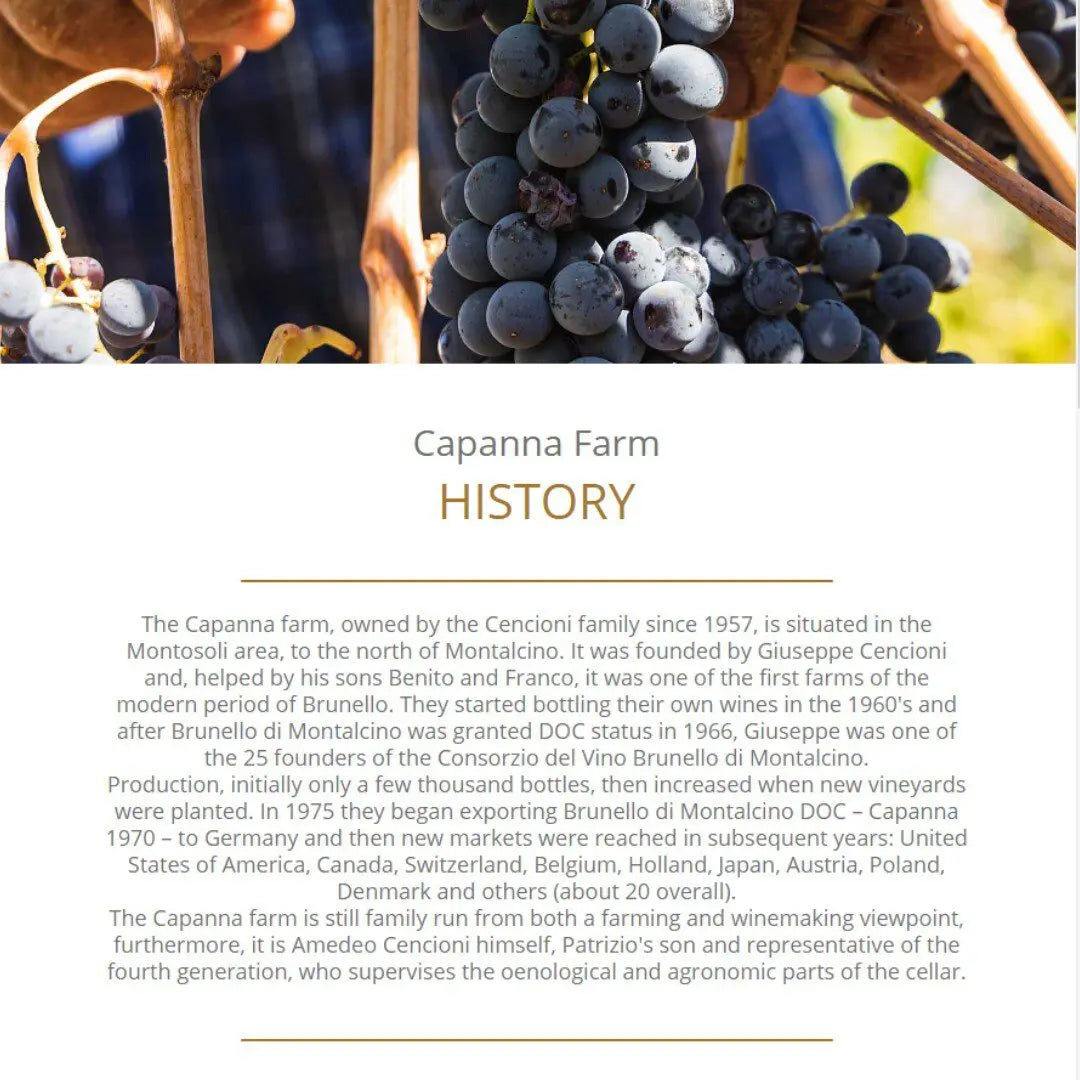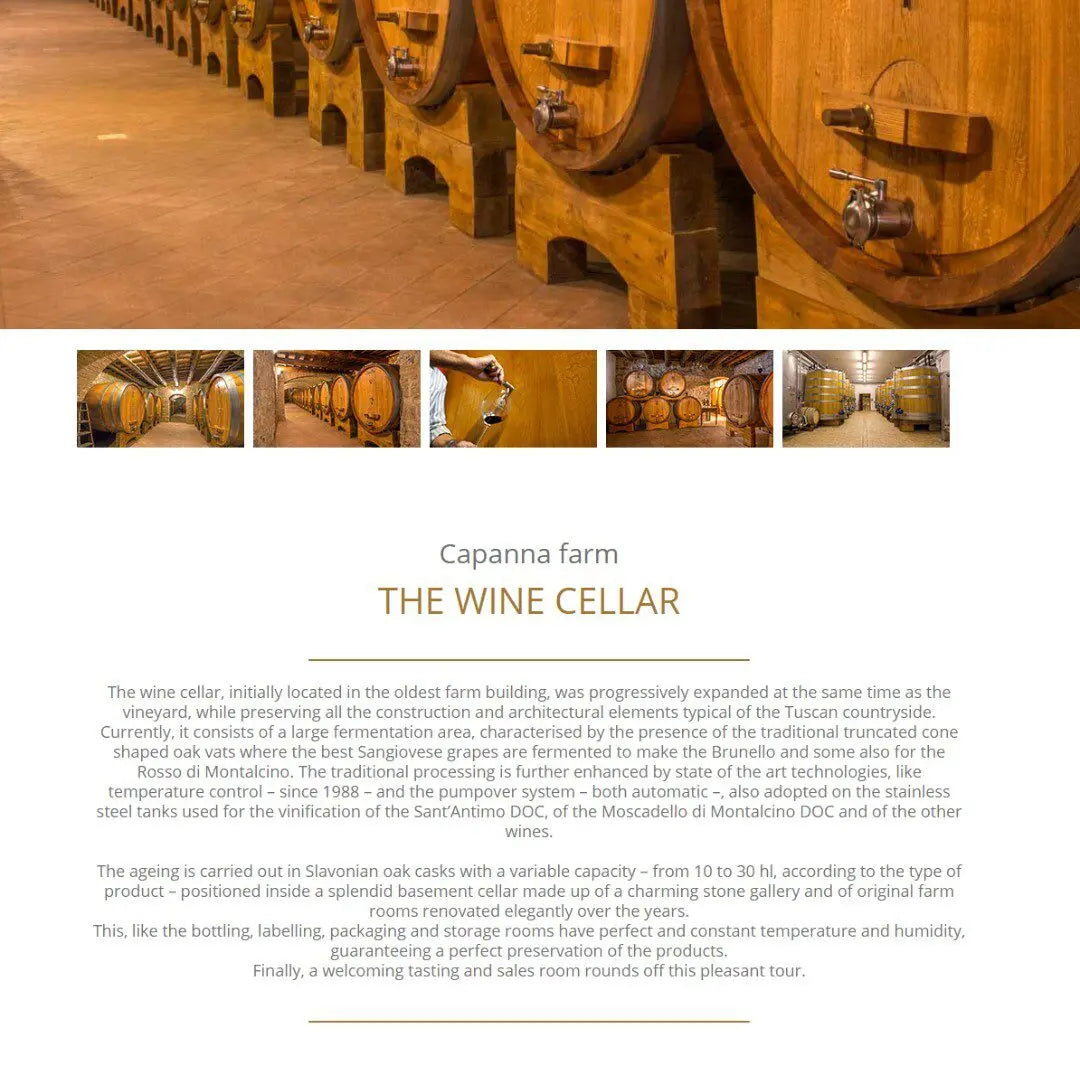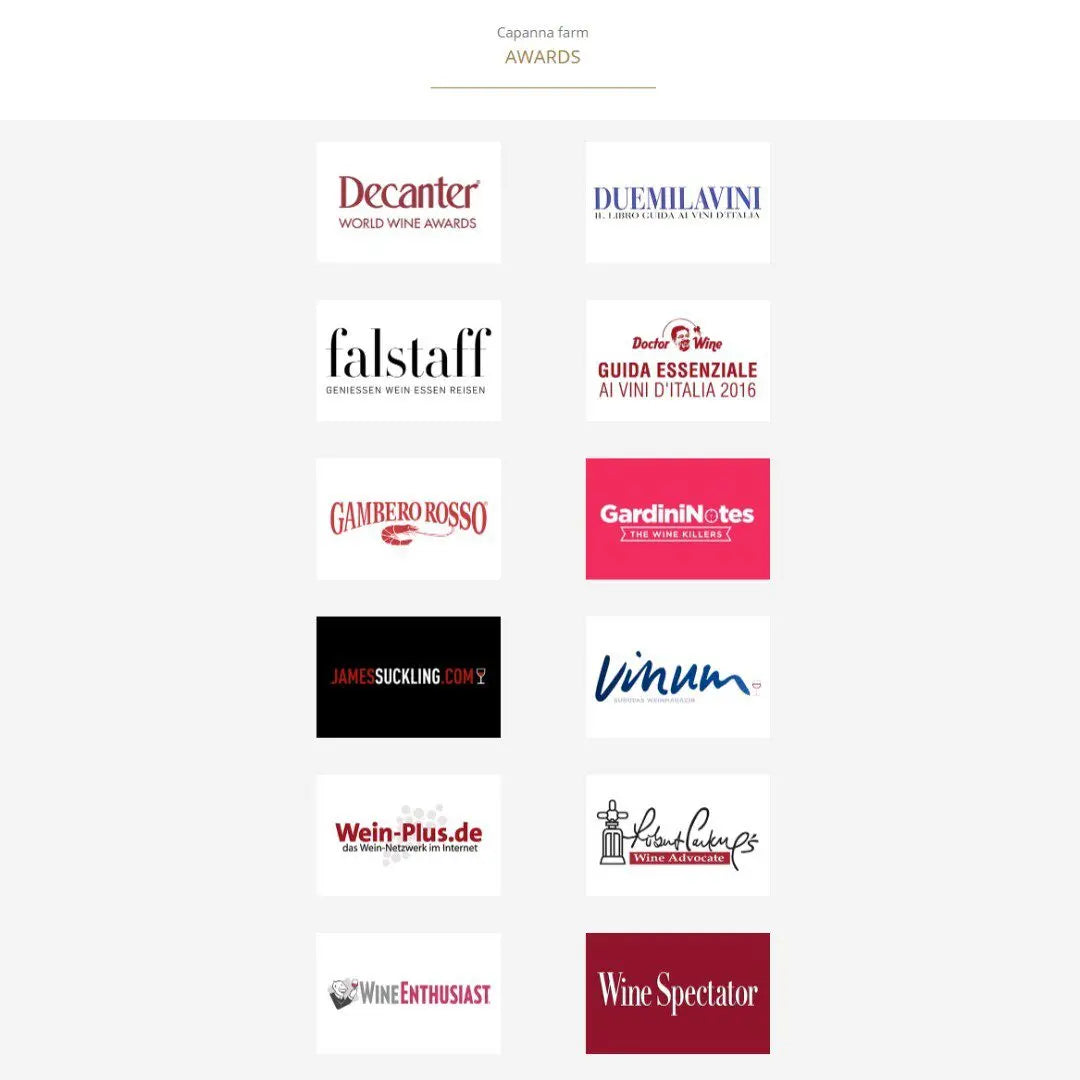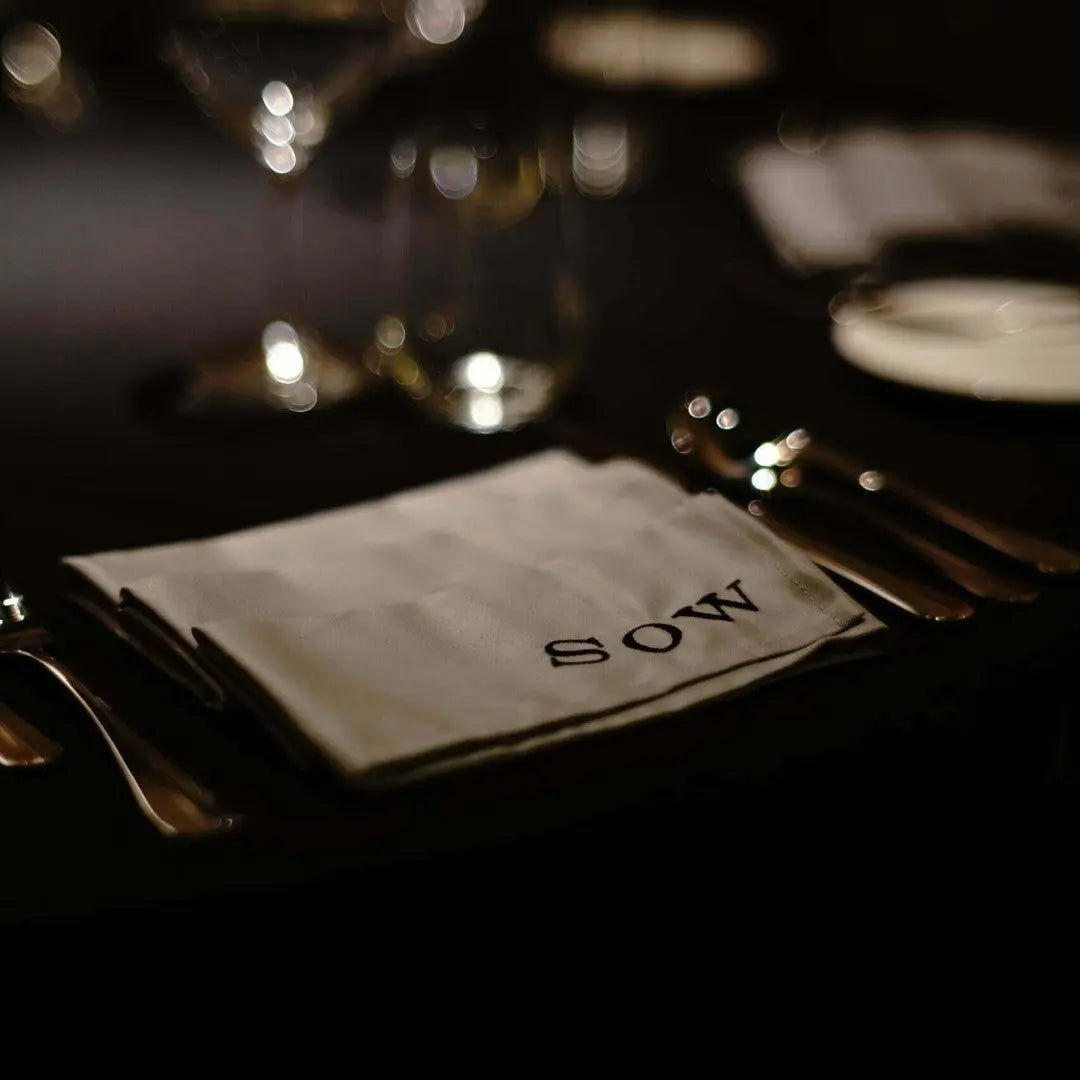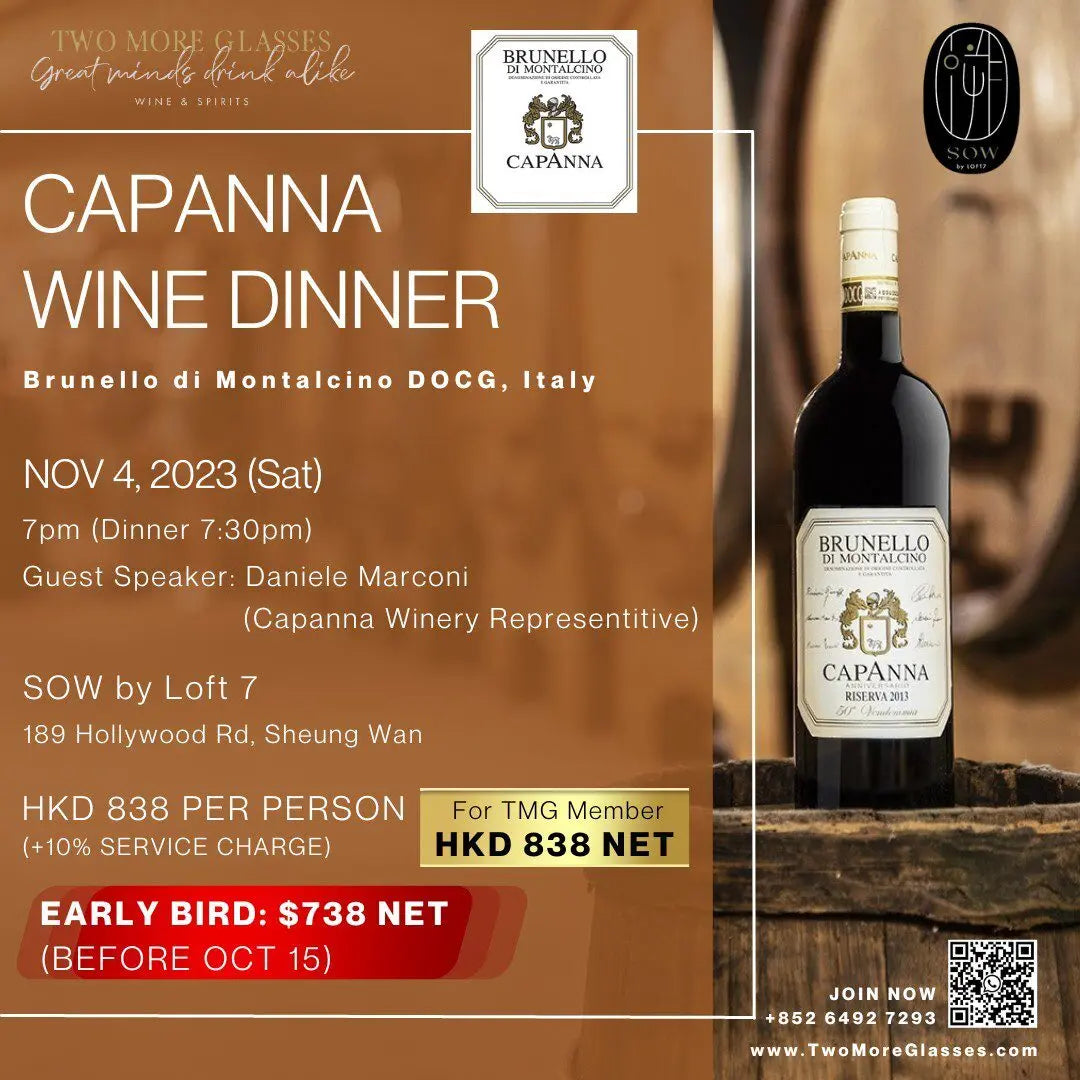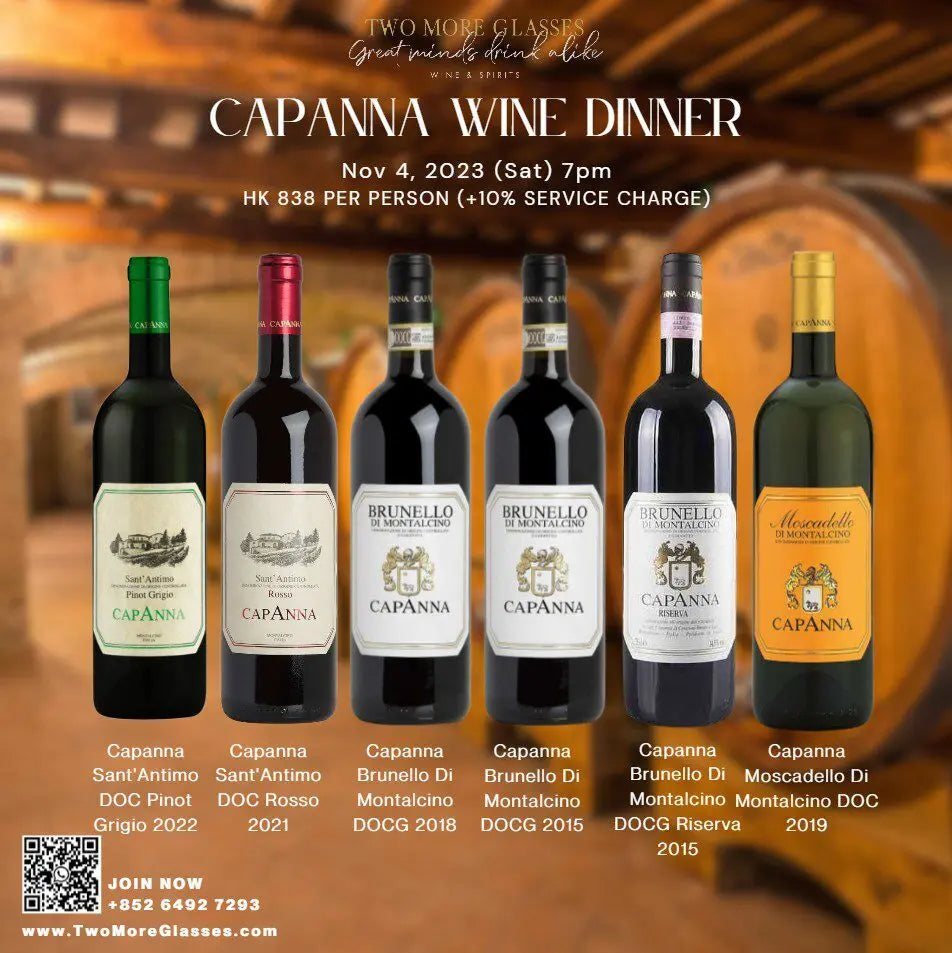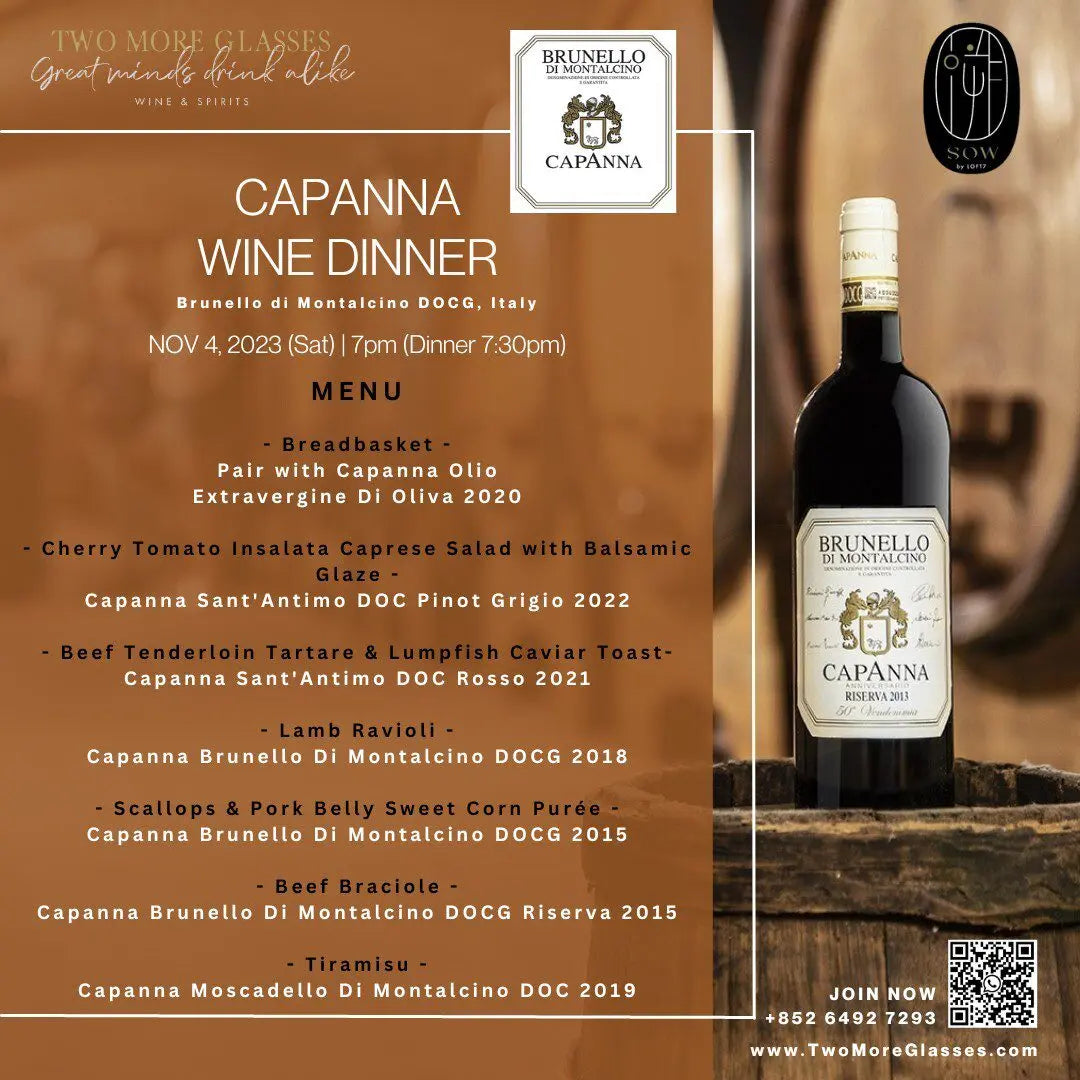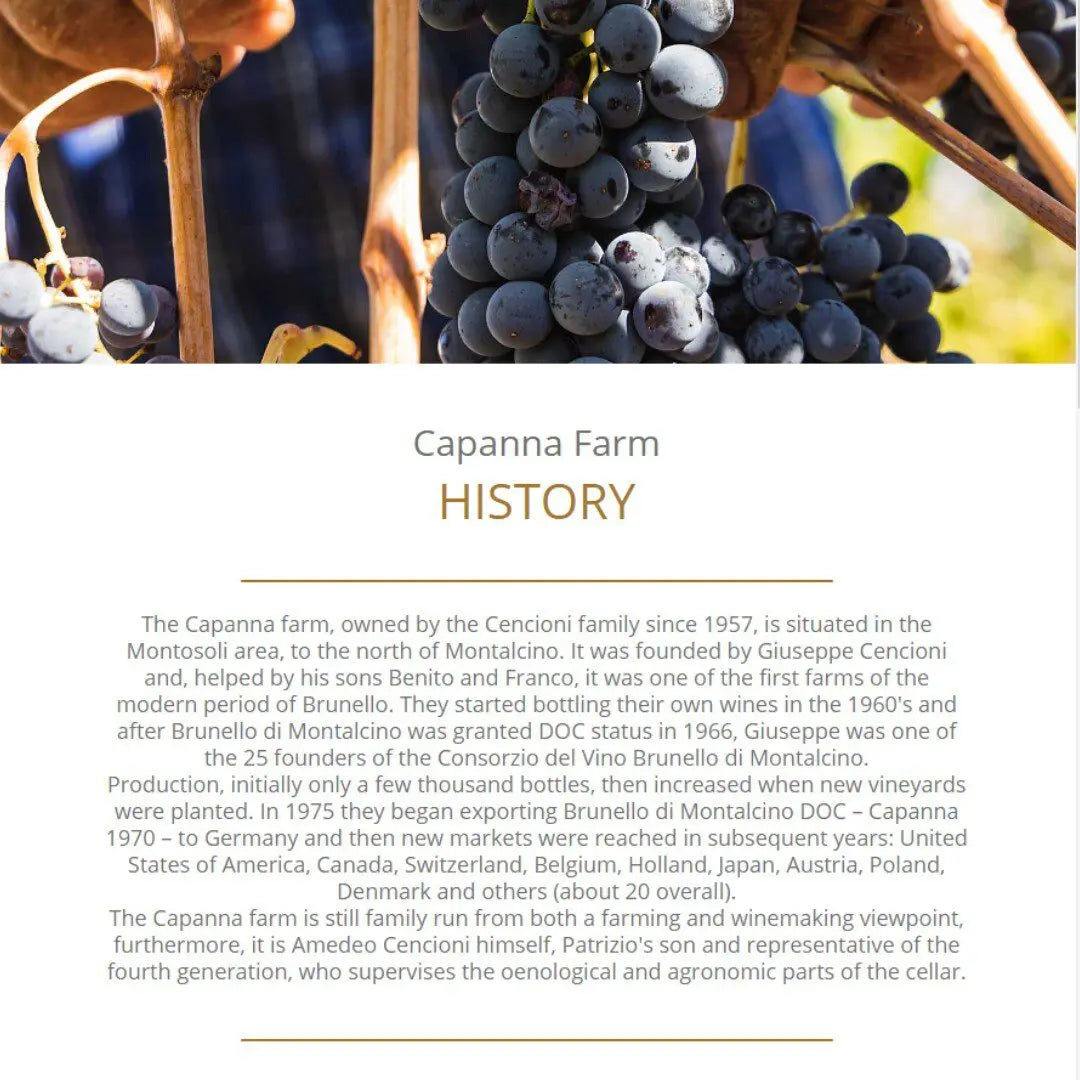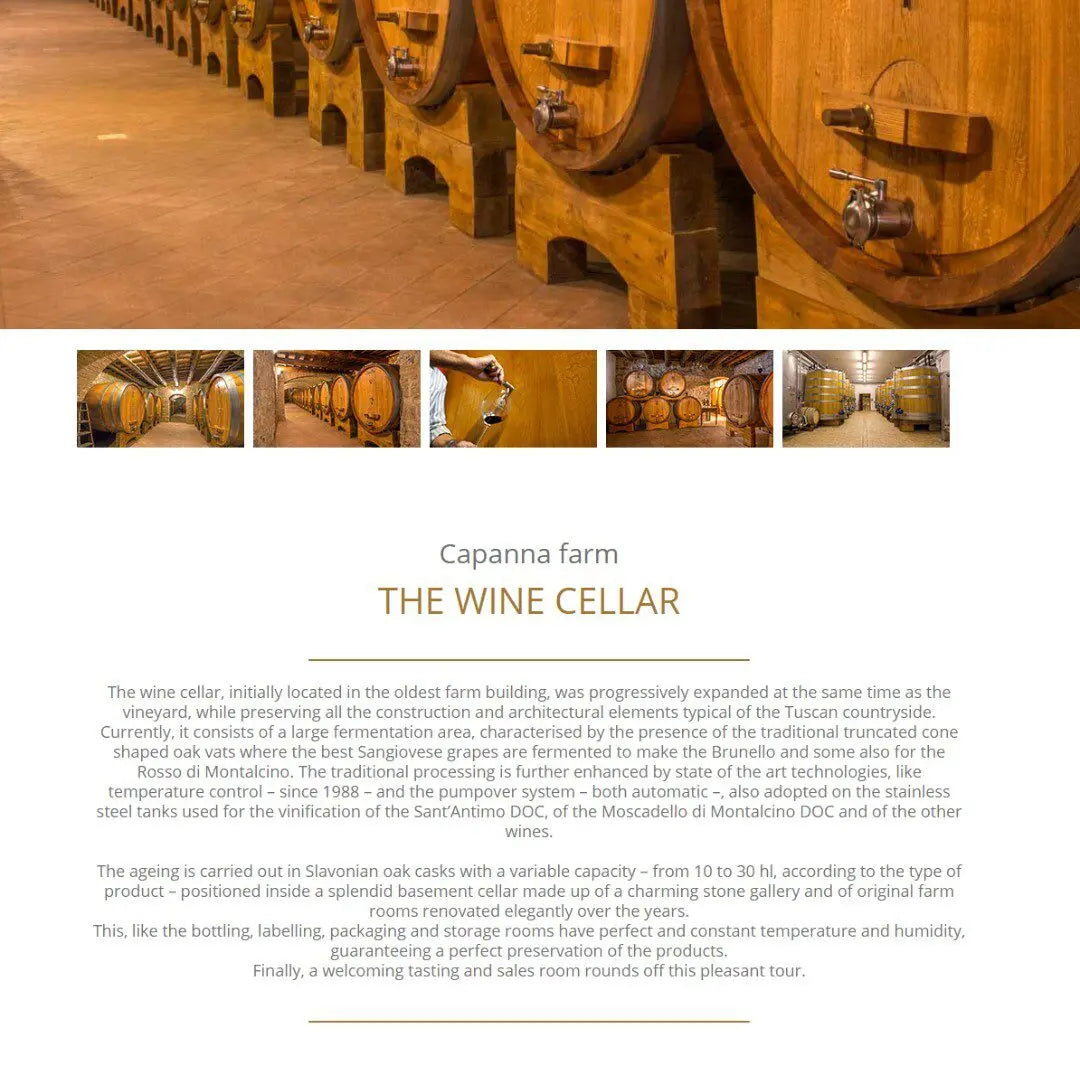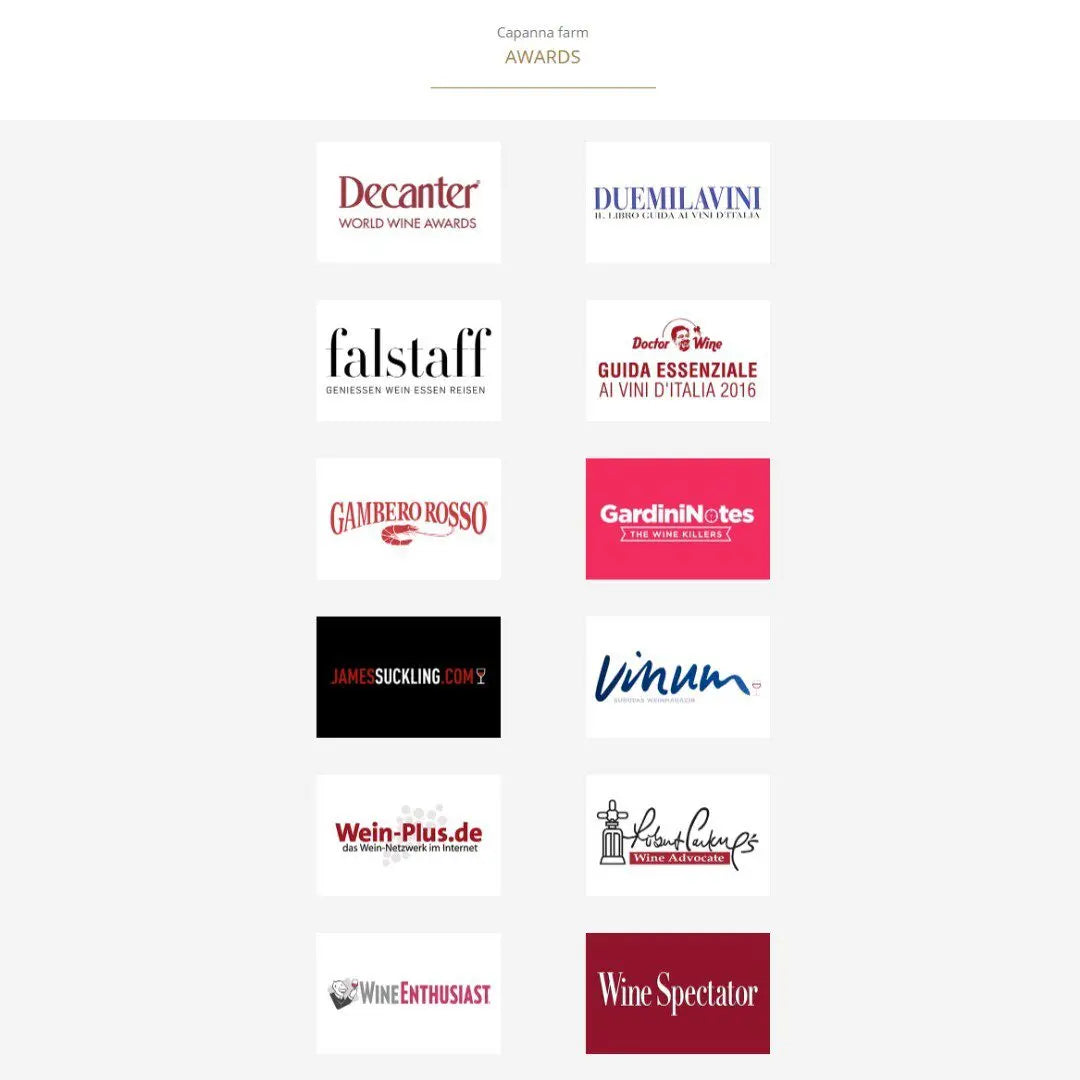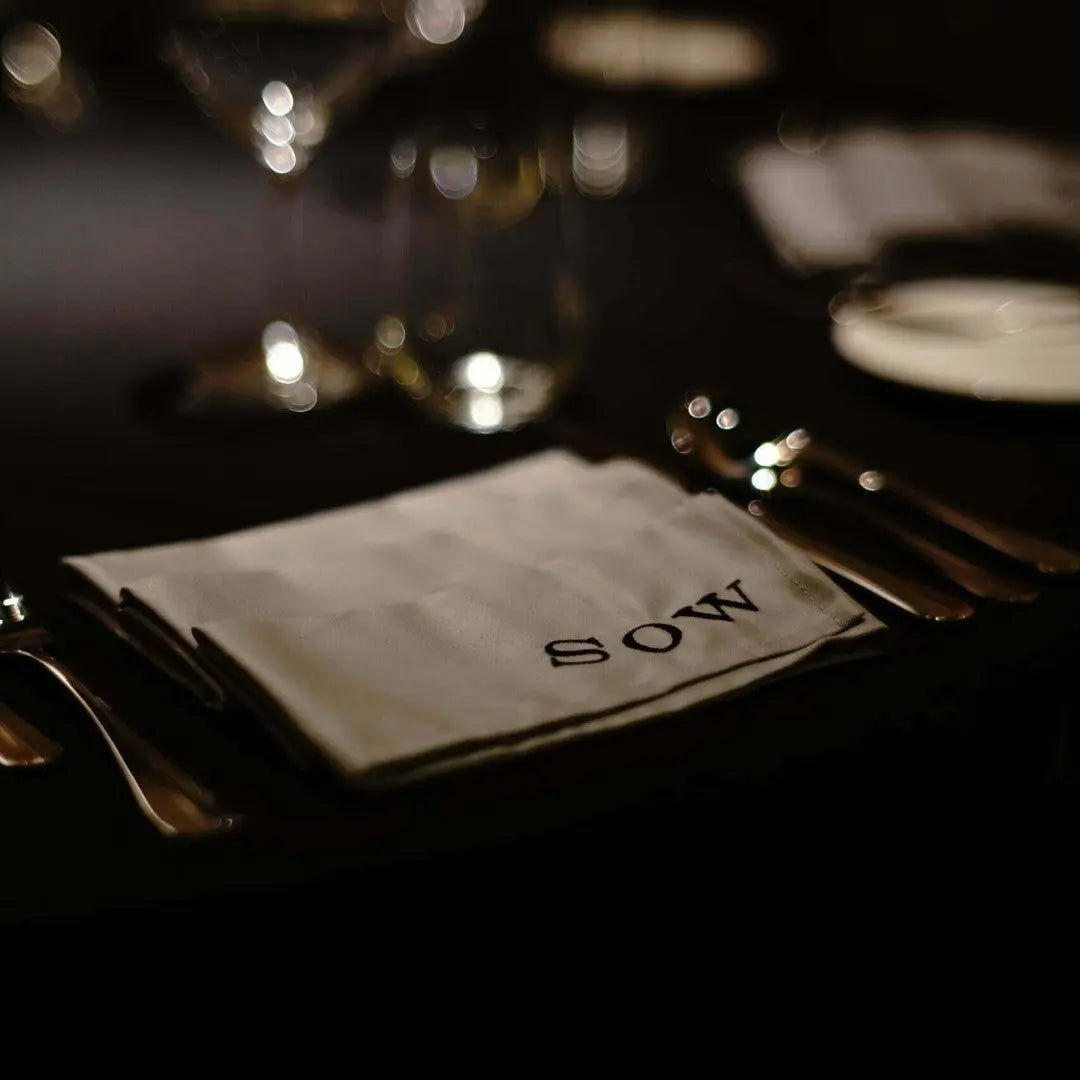 [Wine Dinner] Capanna Wine Dinner (Sheung Wan 4-Nov)
Sale price
HK$838.00
Regular price
HK$921.80
[Wine Dinner] Capanna Wine Dinner (Sheung Wan 4-Nov)
Sale price
HK$838.00
Regular price
HK$921.80
🍷【Capanna Wine Dinner | Sheung Wan 4-Nov】
- Brunello di Montalcino DOCG, Italy -
加入我們,參加11月4日的Capanna葡萄酒晚宴,度過一個難忘的美酒佳餚之夜。發現葡萄酒釀造的藝術、美食盛宴、品酒體驗和社交機會!
Capanna農場位於蒙塔爾奇諾(Montalcino)以北的Montosoli地區,自1957年由Cencioni家族擁有。它由Giuseppe Cencioni創建,得到他的兒子Benito和Franco的幫助,是蒙特奇諾的現代時期布魯奈羅(Brunello)葡萄酒的最早農場之一。他們在1960年代開始釀造自己的葡萄酒,而在1966年布魯奈羅蒙塔爾奇諾(Brunello di Montalcino)獲得DOC地理標誌後,Giuseppe是布魯奈羅蒙塔爾奇諾葡萄酒協會(Consorzio del Vino Brunello di Montalcino)的25位創始人之一。
生產一開始只有幾千瓶,然後隨著新的葡萄園的種植,產量逐漸增加。1975年,他們開始向德國出口布魯奈羅蒙塔爾奇諾DOC - Capanna 1970,並在隨後的幾年裡開拓了新市場:美國、加拿大、瑞士、比利時、荷蘭、日本、奧地利、波蘭、丹麥等國家(總共約20個國家)。
Capanna農場仍然在農業和釀酒方面由家庭運營,而且第四代的代表,Patrizio的兒子Amedeo Cencioni本人負責監督酒窖的釀酒和農業部分。
如有查詢,請WhatsApp聯絡+852 6492 7293。
Join us for an unforgettable evening of fine dining and exquisite wine at the Capanna Wine Dinner on November 4th. Discover the Art of Winemaking, Gourmet Dining Experience, Wine Tasting, and Networking Opportunities!
The Capanna farm, owned by the Cencioni family since 1957, is situated in the Montosoli area, to the north of Montalcino. It was founded by Giuseppe Cencioni and, helped by his sons Benito and Franco, it was one of the first farms of the modern period of Brunello. They started bottling their own wines in the 1960's and after Brunello di Montalcino was granted DOC status in 1966, Giuseppe was one of the 25 founders of the Consorzio del Vino Brunello di Montalcino.
Production, initially only a few thousand bottles, then increased when new vineyards were planted. In 1975 they began exporting Brunello di Montalcino DOC – Capanna 1970 – to Germany and then new markets were reached in subsequent years: United States of America, Canada, Switzerland, Belgium, Holland, Japan, Austria, Poland, Denmark and others (about 20 overall).
The Capanna farm is still family run from both a farming and winemaking viewpoint, furthermore, it is Amedeo Cencioni himself, Patrizio's son and representative of the fourth generation, who supervises the oenological and agronomic parts of the cellar.
Taste SIX types of Sequeira wines paired with delicious 6-course:
MENU
- Breadbasket -
Pair with Capanna Olio Extravergine Di Oliva 2020
- Cherry Tomato Insalata Caprese Salad with Balsamic Glaze -
Capanna Sant'Antimo DOC Pinot Grigio 2022
- Beef Tenderloin Tartare & Lumpfish Caviar Toast-
Capanna Sant'Antimo DOC Rosso 2021
- Lamb Ravioli -
Capanna Brunello Di Montalcino DOCG 2018
- Scallops & Pork Belly Sweet Corn Purée -
Capanna Brunello Di Montalcino DOCG 2015
- Beef Braciole -
Capanna Brunello Di Montalcino DOCG Riserva 2015
- Tiramisu -
Capanna Moscadello Di Montalcino DOC 2019
▶ Date: 4th November 2023 (Saturday)
▶ Time
: 7pm (Dinner 7:30pm)
▶ Venue
:
SOW by Loft 7
G/F, 189 Hollywood Road, Sheung Wan
▶ Speaker:
Daniele Marconi (Capanna Winemaker)
▶
HK$838/person (
+10% service charge
)
*TMG member special price: $838 net
For enquiries, please WhatsApp +852 6492 7293.
We look forward to welcoming you 🥂  
𝗙𝗢𝗟𝗟𝗢𝗪 𝗨𝗦:
*Limited seats available *Allocation of seat is based on first-pay-first served basis *Non-refundable for participant who cannot attend the event *All rights are reserved by TMG